Christmas Gifts
Gift delivery > Christmas Gifts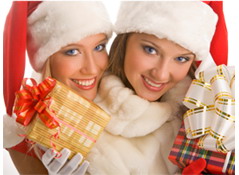 Christmas Gifts
Make your Lady feel
Special ! Let her
know how much you
care!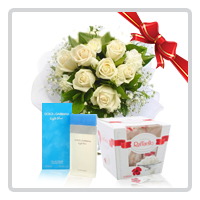 FROM YOUR SANTA
9 white roses and Light Blue by D&G plus Raffaello Coconut Candies
Be her Santa this winter! Snow-white roses accompanied by a stunning perfume, overwhelming and irresistible like the joy of living, will become a perfect Xmas present for the one you love. Add Raffaello Coconut Candies here and you will get a 100% sweet mixture of the most desirable Christmas gift for your lady!
Price: 829 credits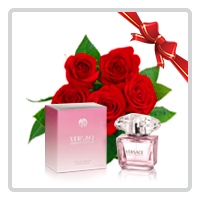 TENDERNESS
5 red roses and Bright Crystal by Versace
Xmas is the perfect time to reveal your tender feelings by sending her a luxury set of admirable red roses and a sensual floral fragrance. Being a true woman, she will easily understand your hint at the desire to be closer to her! Such a gesture of a real gentleman will hardly leave a lady indifferent!
Price: 569 credits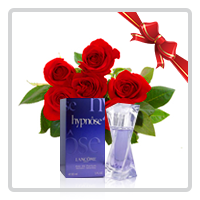 MY PASSION IS YOU!
7 red roses and Hypnose by Lancome
An easy way to rock her world and convey the passion to the one you love! Hypnose by Lancome is a legendary symbol of a strong and deep feeling. Accompanied by delightful red roses it makes a superb present for your beloved!
Price: 639 credits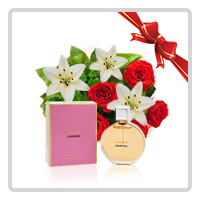 YOU ARE THE QUEEN!
5 red roses and 3 lilies plus Chance by Chanel
An absolutely royal present for your Queen! You can hardly find a lady whose heart won't be touched by this totally luxurious set of red roses and lilies and a unique fragrance by Chanel. There is no need in words anymore! Such a wonderful and desirable present speaks for itself: You are my Queen! The one and only!
Price: 909 credits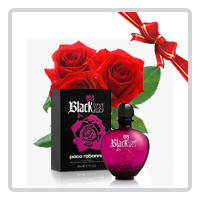 SWEET KISSES
3 red roses and Black XS for Her by Paco Rabanne
You are far away, but want to send your lady your passionate kisses this Xmas? 3 touching red roses and a vivid floral-fruity composition of Black XS for Her are like real kisses, affecting and strongly emotional at the same time! Even being far away, now you have a chance to open your heart and your secret desires!
Price: 509 credits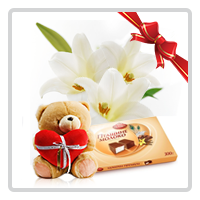 ALWAYS WITH YOU
3 lilies + `Bird's milk` chocolates + Classic Teddy Bear
Do you think your beloved one deserves something unique on a special day? If so then surprise her by sending tender white lilies – as white as Xmas snow! Add here airy and the most desired 'Bird's milk' soufflé covered with delicious dark chocolate, and a Teddy Bear… and she will get a message of warm adoration from you!
Price: 479 credits