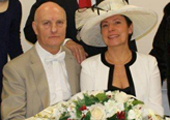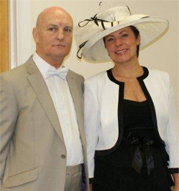 This couple had gone through many things before they finally found each other. Tina is a very mature and very good looking lady. She was rather successful living in Russia. Her daughter was in Moscow and the only one thing she lacked was women's happiness. Ian is also a mature and active man, who was very determined about his search. He was rather stable and his life was practically complete but…
In spite of their age difference these two people started correspondence with each other… Tina was in Czech Republic at that time. Ian did not want to waste time on endless correspondence and he immediately went to Czech Republic to see her personally.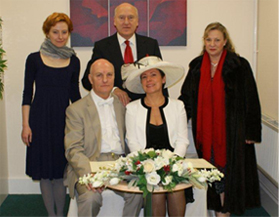 The first meeting was intensive as both were very nervous and both had to overcome language barrier. Tina was very good at German but not at English, while Ian was from England. Although having spend a couple of days together, they decided to keep in touch. Tina came back home. She was settling some work issues and planned to move to Czech Republic in order to work there. But they were writing to each other all the time, calling each other. The distance and online communication made them understand how close they were, how great they understood each other. In some period of time Tina and Ian met each other again. It was the key meeting in their destiny as after that they decided to get married.

Presented by BeHappy2Day
partners from Novosibirsk.