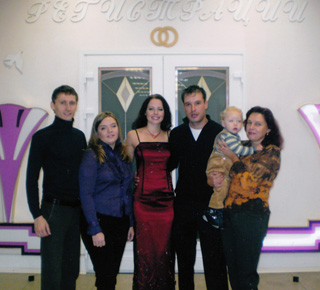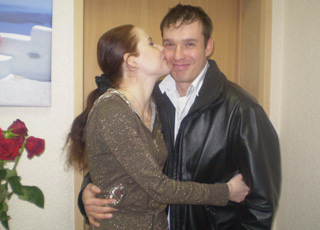 Even when I was only 14 years old, I knew that I would go to the marriage agency and marry a foreign man. At that time, I brought my mum to the marriage agency, and then I was invited to take some photos but I was still too young.
Then I grew older and one day my friend and I were passing by the Radichev Boulevard and decided to enter the Behappy agency. We were interested and it seemed so easy to us. We havenít even thought about what would come next. And I had no idea that I would find my future husband here so quickly.
My correspondence with Quinn began in 2006 and after about a year we met each other for the first time. It happened in August, I remember it so well.
The interpreter and I had to go to where he was staying. When we arrived, he ran out dressed in a white T-shirt and shorts and said that he would change first. I liked him at once.
I wanted to get to know him better. During the date, he was modest and little shy, but it suited him so well. I was wondering about the difference between the real him and the image that I drew myself from our online communication.
In the very beginning, he didnít have any faith in finding someone using the agency. He was considering such trips and meeting with acquaintances as potentially dangerous or risky. It was the first time for him visiting Russia but he was pleasantly surprised and received good impressions from our first meeting.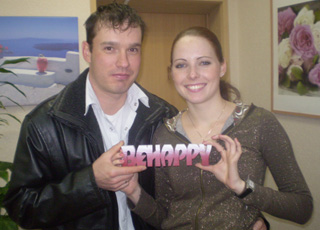 After he returned home, our relationship continued to evolve in letters to each other. Then our meetings started to occur more and more often. He came to see me in Russia five times Ė we liked to meet in Moscow each time.
Before the wedding, we came to Saint-Petersburg to meet my relatives and introduce him to the family. Our visit to the northern capital further enriched our relationship and we married two days after our return to Tver.
This decision to get married came to the both of us at the same time. We purchased the rings and registered our marriage with only our closest relatives with us at the registry office. Then we celebrated our marriage at home with our families.
The day following the registration, we started preparing all of the necessary papers. This was a laborious process which took a lot of time and effort to accomplish, but it was worth it and finally, I moved to Canada with my beloved.
Anastasia