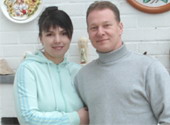 It is truly important for any lady to meet a man of her life who will make her feel being a real lady. It can be possible on condition that this man knows how to love, to show his affection and care, he is tender, intelligent and understanding. The one with who lady could go hand in hand along the life way and could bring into the world nice children together, to meet the end of the days and to see the life as one bright and unforgettable instant!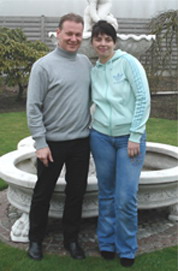 Of course marriages are made in heaven! In any case there should be an intermediary between heavens and people who want to be together.
I can call those intermediaries and conductors "kind angels" for Mark and me the representatives of the dating agency became those cupids.
Both Mark and I would like to bring our sincere gratitude for their help and support in our endeavors and desire to make our lives complete and be happy together in a happy marriage. They did everything to make our dream come true. We are getting married in March and we are really very excited, because of this wonderful occasion.
The story began when I went to the local dating agency to apply for their services having in mind that one of my acquaintances got married with their help to an Englishman. At first it was like something unusual, as I have never kept in touch with anyone through the dating system, I have never experienced many of the feelings I got after I have started to communicate through the Internet, I couldn't believe things will happen to me.
I have been in correspondence for several months, men were writing to me about their life and I shared my daily life with them. I received plenty of letters, but there were no special ones among the men who were writing to me, which I would say become my ideal match.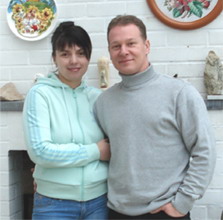 Eventually I received the invitation from the director of the agency to meet a guy who came to Ukraine to find his destiny and beloved one. I was really busy at work, but postponed all things and went to the meeting. I will never forget that day, as then I have seen Mark for the first time in my life. We started to talk and I felt so close to him, I believe that we became soul mates from the very first moment.
I invited Mark to my home and introduced him to my relatives, and in two days he left for Belgium. We started to write letters daily to each other and he called me on the phone every morning and afternoon, I couldn't imagine how much I would be in love with the guy. We started to build plans for the future and he invited me to see the place where he lives.
I went over there and I liked the way his family accepted me. I was treated like a member of their family, they organized dinner for all of us and the atmosphere was warm and welcoming.
For now we are in the process of getting together and I need to take many more steps towards our future, I am getting ready to move on and change my life and I know for sure that my future will be marvelous in the arms of my beloved Mark.
I would like to recommend all singles to apply and use agency's services and you too will succeed in your search!
With warm wishes,
Yana and Mark