Happy Match
Our Testimonials
Please contact customer support if you would like to leave a testimonial about our services.
---
Jerry, Arizona
I would like to sincerely thank the secretary of the agency for assisting me in choosing the ladies. They were all great and magnificent!.. It was hard to make my choice!
---
Chuck, Texas
Dear agency, I want to thank you for matching me with Ludmila during my last trip to your great city. I appreciate that you drew my attention to this charming lady, that you insisted on me meeting her and helped me with your personal approach. I know that I will never regret the day when I said yes to that meeting which changed my life forever...
Chuck from Texas
---
Tom, Chicago
Hi be happy staff, Just want to confirm my arrival date being January, 27 and make sure that I have the same interpreter who worked with me last time... I never had any problem while assisted by her... Tom from Chicago I do want to request Yaffa as my interpreter when I am in Tver, I have worked with her my last three trips and she has my complete trust.
Jerry from Arizona
---
Michel, France
Thank you to everybody in the agency for your availability, and moreover for Yaffa who was very kind and helpful, and who could speak english and french!
---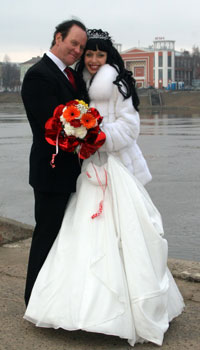 This is essentially the story of how Lera and I got together.
I initially visited Russia and Tver for two reasons, to see the Winter Palace in St Petersburg and to meet a few nice girls in Tver who had written letters to me through BeHappy2day. That first trip in October 2004 was great as I not only saw the magnificent Winter Palace and also the Kremlin but also met my great new friends,…
---
I appreciate the way Be Happy staff treated me when I came. I can't say that I dated a lot lately and was in need for advice how to behave and what to put on. My interpreter gave me pretty good instructions about wearing a suit and a tie to produce good impression. She also advised me to bring flowers which I did and I saw that my lady was really pleased by the way…
---
Tom, USA
I will always follow BeHappy2day advice, you guys helped me find my Nancy the kindest most beautiful girl in the world thank you very much!
---
Hi there at be happy.

I plan to come over again in February and want to check the availability of your accommodation. This time I plan to stay at least two weeks because last time I came it was only one week and I was at a complete loss when I met so many marvelous ladies. All women that I met were so incredibly charming and smart that I guess I will need much more time…
---
Dear Behappy2day staff!

I was impressed with your professional service. I would never have met Sasha but for you. Yaffa introduced me to the lovely lady on the first day of my stay in Tver and I was enchanted with her beauty, grace and wit. We enjoyed a lot of hours together and must have walked the city once or twice but we never got tired. Yaffa did a wonderful job interpreting for us. Please, pass her…
---
Hi guys!

I am writing you from Italy. I want to say that I am impressed with your services. To tell the truth, I didn't think that your care about me in Tver would be so professional. I have cooperated with some dating agencies but was never content with them. Kate is a wonderful interpreter and I believe that it is only due to her help Oksana and me communicated without any difficulties. We both felt at ease in her presence,…