May 15, 2018
We're happy to announce to you our latest Live Chat updates – meet the new smilies, stickers and stickers sets already available in Live Chat! Expressing your emotions, feelings and current mood and having interesting conversations in Live Chat has never been so easy or enjoyable!
This is how the new smilies and stickers work in Live Chat: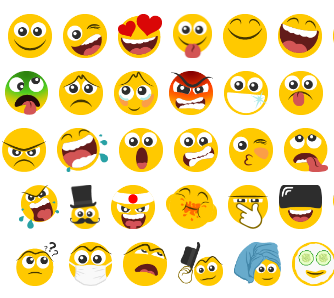 Smilies and icons – these are free items which you can use to show your conversation partner what you're feeling right at that moment. Just click the smiley or icon you need and add it to your message. 

Stickers sets – a nice alternative to smilies. Would you like to show your emotions to your lady and make her smile? Cute pandas, owls, fruit and many other objects and animals can do it for you! Opening a set of stickers costs just 15 credits and then you can send as many stickers from this set as you wish, to any lady you're talking to.

Single stickers – a small gesture for your special lady. For 1 credit per sticker, you get a great chance to share what you feel about her, wish her a wonderful day or say what you're doing or thinking at that moment without composing long detailed sentences. Bright colors, lovely images and a couple of nice words – this is absolutely worth using in your communication!
To find the latest smilies and stickers, just click the special icons in the Live Chat window.
Have the time of your life chatting with gorgeous singles online and enjoy using the latest Live Chat features! Chat live, meet new ladies and find your perfect match!