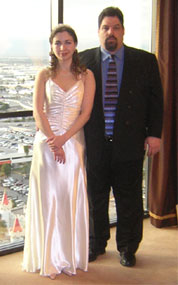 I was looking for a special town not far from a major city but far enough away that I had a good chance to find a traditional russian woman who could be sincere in her intentions to start a family life far from Russia. That is how I found BeHappy. I did my research and found that the agency seemed to be well run. I corresponded with a few girls before finding my Maria or Masha as she likes to be called. When she got busy I was able to talk to a BeHappy staff member who was Elena Stupina at the time and Elena contacted Masha to let her know I was anxiously waiting for a letter from her. I really enjoyed this service and with Elena and BeHappy's help we had a good start to our relationship.
I then decided to fly to Tver to meet with Masha. All of my requests were met including a meeting on the same day that I arrived. I was met at the airport by a translator and driver. We took the drive to Tver and I was dropped off in my apartment unit to settle in for an hour while Elena came to escort me to my first meeting with Masha.
Masha and I wrote from about January of 2004 to April when I flew on this first meeting. I had a chance to send her flowers on her birthday, the 22nd of February and again on the 8th of March for a big Russian holiday Women's Day. When I first met Masha she was more beautiful and kind than any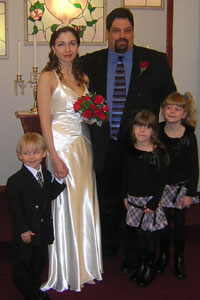 picture you could imagine. We simply had a small dinner and then she had to take her boy of 3 years home to bed but despite being cold she and her son came out into the cold to meet me. My first impression was that I was on to something very special. We both decided to meet again the next day and so that hard first meeting was over. I ended up spending an entire week with Masha and we spent a day touring Moscow's Red Square and seeing the city center. Each day I had a day and an evening translator. Although I speak fluent Russian it was nice to have someone to escort me around and inform me of the history of the city, what was going on, good places to eat and dine etc. Before I left I asked Masha to start the visa process and that if she ever felt uncomfortable we could stop it at any time. I also made one other big promise which I kept which was that I would return to visit her again in four months time or August of 2004. Due to the delicate way in which I approached this she agreed with starting the K1 Visa process with me. I can't stress enough how sensitive a man needs to be at this stage. I explained the process takes around half a year and I would return to spend more time with her before the process concluded. This was essential in obtaining her permission.
During the four month wait we talked on the phone at first twice a week on Wednesdays and Saturdays. Then it was closer to every other day. Finally my last month I talked to her on the phone almost everyday. When I arrived again in August we spent 10 days there in Tver and took a side trip to St. Petersburg. It is one of the most beautiful and magnificent cities I have ever seen. I highly recommend it. This second trip basically sealed the deal and we both understood that we have started to develop feelings for one another.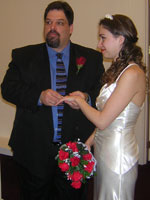 I returned at the end of October for a third trip to escort Masha and her boy Nikita to America. I met her family and was roundly initiated into the club of Russian Drinking Men as her Uncle and I put down five small bottles of vodka over the course of an evening. Russian culture is something to behold for sure. I loved her family, her aunt and uncle and grandparents and we had a great weekend together before leaving. When we arrived Masha got a chance to visit my family in Utah, we lived in Houston Texas at the time and she met my daughters Heather and Hannah and my family including my three sister. We married in Las Vegas on December 27th, 2004 after spending Christmas with my family in Utah. My entire family was there and we had a great suite at the Luxor Hotel.
Since that time our first year adjusting was hard but after 5 years together and over 4 in marriage we have come to love each other very deeply and just a couple of months ago we had our 'miracle' a baby we are expecting in September of 2009. We did not think this could happen with Masha's physiology and so we are very happy together. Masha has gone from taking ESL level 1 classes in 2004 to taking her last ESL class at the end of 2008. She has a job as a CNA working at the Veterans Hospital and I am self employed Transportation and Engineering Consultant as well as the business owner/operator of MyK1Visa. Nikita and my daughters get a long very well and he is fluent in both English and Russian. My daughters are learning Russian from him and have quite the vocabulary.
In closing I can only say that meeting Masha was my life changer and I feel secure with my new family for the rest of my life. Her Russian cultures and lifestyle make her a great wife, mother and friend to me and my family. My daughters have taken to calling her Mama Masha and they call me Papochka. Life is good and many thanks to Yaroslav, Elena, Diana and the BeHappy Team in uniting the two of us together.